Edmonds, Washington - October 10, 2017 - The Washington State Council for the
Social Studies is pleased to announce that it has named Steven Cross, Social Studies Teacher from Marysville Getchell High School in the Marysville School District as its 2016-2017 Teacher of the Year Award Recipient.
Cross is being recognized by the Council as a leader in social studies who has made lasting and substantive contributions to the social studies at both the local and state levels.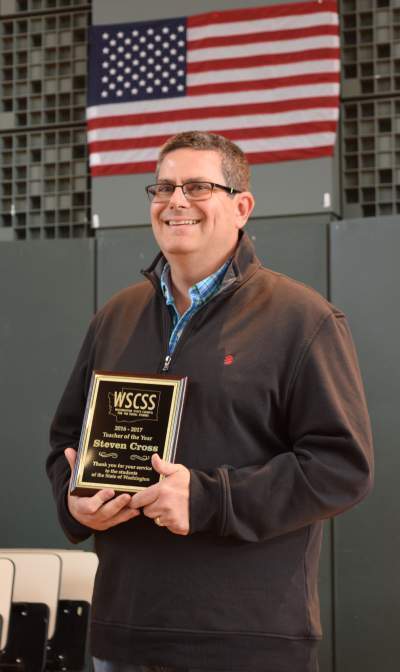 Cross has been instrumental as a member of the Social Studies Cadre of Educators and has worked to improve the OSPI
Classroom Based Assessments and has played a role in the Social Studies GLE revision and adoption process.
Cross was nominated for this recognition by a former student who spoke of his dedication to his students and the social
studies. The student spoke of his dedication to teaching and the care and interest he takes in his students. The student
closed by commenting that, "any student would be lucky to have Steven Cross as their social studies teacher."
Cross is also known at the state level for promoting student excellence and achievement. Cross has mentored several
students who have gone on to win the Danial J. Evans Civics Education Award that recognizes students for successfully completing an OSPI-Developed Assessment and being a civic leader in their classroom or community.
"Mr. Cross is a model social studies teacher that the Council is proud to recognize," says WSCSS Vice President Bradley Liebrecht, "Steven has had a tremendous impact on not only his students, but social studies education in Washington State. Marysville is lucky to have such a skilled and dedicated teacher in their district."
Mr. Cross was given the Teacher of the Year Award at the WSCSS 2017 Fall Conference held at Edmonds-Woodway High School in Edmonds, WA on October 7, 2017
Contact:
Bradley Liebrecht
contactwscss@gmail.com
###