The City of Marysville, Marysville Community Food Bank, Marysville Farmers Market and other local businesses and organizations are collecting school supplies for Marysville and Tulalip students from Monday, July 25, through Friday, Aug. 4.
The supplies drive is part of a growing community effort to provide every student in Marysville and Tulalip with the resources needed to be successful in and outside of the classroom.
"There are many families in our community who struggle to get their children the supplies needed for each school year," said Marysville Community Food Bank Assistant Director Amy Sewell Howell. "This is an opportunity for all of us to pool our resources to ensure all kids have what they need for a successful education. When we lift up one child in our community, we lift up everyone."
Drop off school supplies at any of these locations: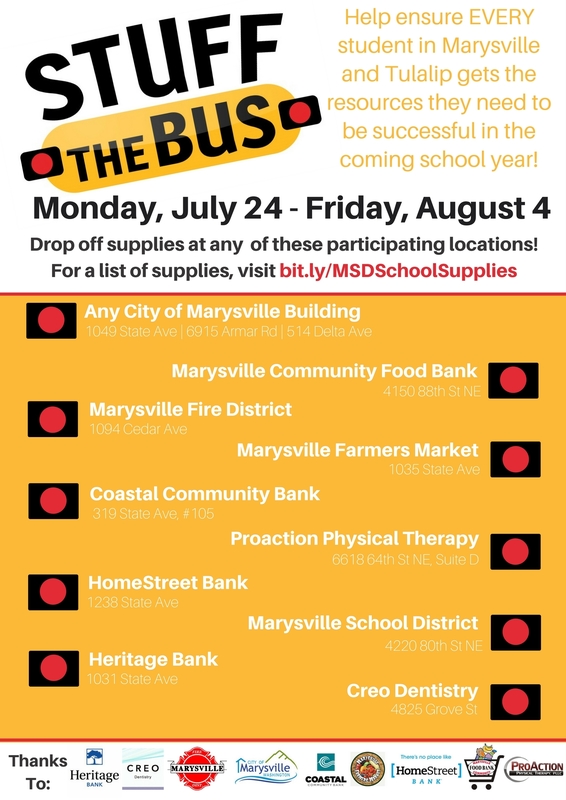 City of Marysville buildings:

City Hall: 1049 State Ave.

Parks, Culture & Recreation: 6915 Armar Rd.

Community Center: 514 Delta Ave

Marysville Community Food Bank, 4150 88th St. NE
Marysville Fire District, 1094 Cedar Ave.
Marysville Farmers Market, 1035 State Ave.
Coastal Community Bank, 319 State Ave. #105
Marysville School District Service Center, 4220 80th St. NE
Heritage Bank, 1031 State Ave.
Creo Dentistry, 4825 Grove St.
HomeStreet Bank, 1238 State Ave.
"The long-term goal of this drive is for no student or family to have to purchase their own school supplies," said Marysville Parks Assistant Director Tara Mizell. "If we can collect 5,175 boxes of crayons, 10,529 boxes of pencils, and 21,058 notebooks, we can help cover the needs of every student in the Marysville School District."
School supplies lists for each school can be found at bit.ly/MSDSchoolSupplies or at the Marysville School District Service Center located at 4220 80th St. NE, Marysville, WA 98270.
If you are in need of school supplies assistance, please contact the Marysville Community Food Bank atmarysvillefoodbank@frontier.com, 360-658-1054, or in person at 4150 88th Street NE, Marysville, WA 98270-0917. Supplies distribution will take place in late August and is based on need and the amount of supplies collected.
###
About the Marysville Community Food Bank
The Marysville Community Food Bank serves anyone in need residing in the 98270, 98271, and 98259 zip codes. The organization began in the rectory of St. Mary's Catholic Church in 1974 when a handful of volunteers got together to distribute food out the back door to the hungry and homeless. Over the years, the Food Bank operations have grown. In 1987, it was formally organized as a non-profit organization supported by 12 churches in the community, with oversight provided by a board of directors. Today, the food bank is a partnership supported by 18 community churches, service clubs, schools, businesses, volunteers and individuals.
CONTACTS:
Connie Mennie
Communications Officer, City of Marysville
360-363-8086
cmennie@marysvillewa.gov
Amy Howell
Assistant Director, Marysville Community Food Bank
amy.mcfb@frontier.com 360-658-1054