Senior Final Exam Testing Schedule:
June 7 - Periods 5 and 6
June 8 - Periods 3 and 4
June 9 - Periods 1 and 2
Senior BBQ:
June 9th from 5:30p to 7:30p at the Stadium. See Ms. Roberts or Ms. GreeneGordon for more information.
Mandatory Commencement Rehearsals:
June 12th and June 13th from 830a to 11a in the Commons. Tickets will be handed out the second day.
Extra Grad Tickets:
Students may get up to an additional 10 tickets after the second rehearsal in the Cashier's Office. First come, first serve.
Senior Awards Night:
June 6th from 6:00p to 7:30p in the Auditorium. See Mr. Santos for more information.
Baccalaureate:
June 11th from 1:00p to 2:00p in the Auditorium. See Ms. Irwin-Rainey for more information.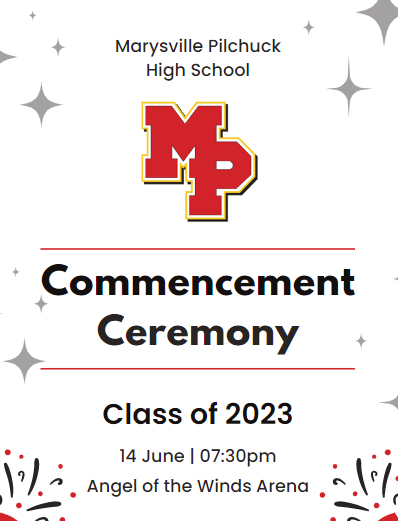 Class of 2023 Information
I hope this information is helpful. If you have further questions or need assistance for Class of 2023 please let me know,
Cimbal Irwin-Rainey
Parent Volunteer Chair for the Class of 2023
360-965-0923