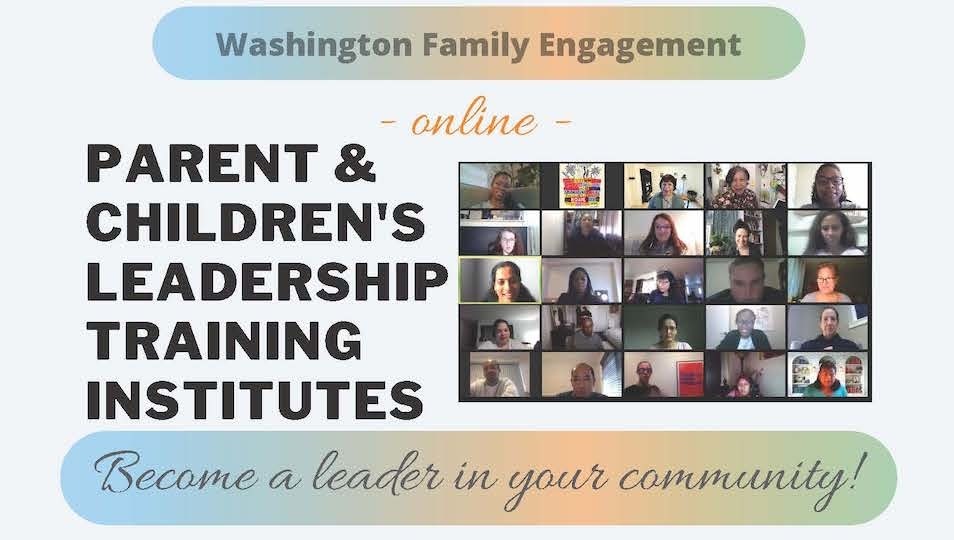 Parent & Children's Leadership Training Institutes
Marysville School District
Thursday, January 07, 2021
The Washington Family Engagement Winter/Spring Parent Leadership Training Institute begins on February 27. Lea más a continuación para español.
The PLTI is an 11-week, online college course that teaches parents, community members, and professionals working with families to understand systems and develop civic, leadership and public speaking skills. The course offers five college credits to those wishing to start or continue their higher education. As a graduation requirement, participants develop a community project to benefit their schools, neighborhoods, and other families.
WHEN: Classes begin Saturday, February 27, 2021, and end Saturday, May 22, 2021.
WHERE: Online classes are held via Zoom on Wednesday evenings from 6:00PM - 9:00PM and Saturdays from 9:00 AM - 12:00 Noon.
This program is free. Space is limited. Register here!
Questions? Email us at: info@wafamilyengagement.org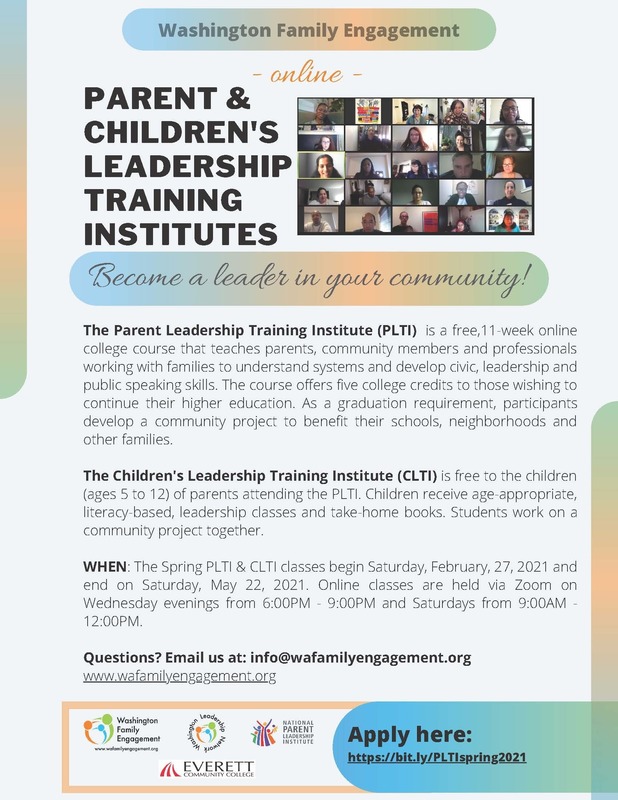 ---
NEW – The PLTI in Spanish begins February 20th
EL Instituto de Liderazgo de Padres en Español es un curso en línea gratuito de 11 semanas, que enseña a los padres, miembros de la comunidad y profesionales que trabajan con las familias a comprender sistemas, desarrollar habilidades liderazgo civico, comunitario y para hablar en público. El curso ofrece cinco créditos universitarios a quienes deseen empezar o continuar su educación superior. Como requisito de graduación, los participantes desarrollan un proyecto comunitario para beneficiar a sus escuelas, vecindarios y otras familias.
CUÁNDO: Las clases comienzan el sábado 20 de febrero de 2021 y terminan el sábado 15 de mayo de 2021.
DONDE: Las clases son en línea a través de Zoom los martes por la noche de 6:00 PM a 9 PM y los sábados de 9 AM a 12 PM.
Este curso es gratuito. Espacio es limitado. Registrese aqui!
Preguntas? Mande un correo electronico a: info@wafamilyengagement.org