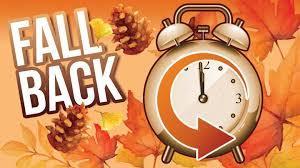 "Fall Back" and Important Safety Reminders
Marysville School District
Sunday, November 03, 2019
A reminder to "fall back" and set clocks back one hour. This is also a good time to check and replace smoke alarm batteries and to share our reminder about student safety with less daylight in the morning and early afternoons.
Student Safety - Walking to and from school or the bus stop, or biking to and from school
As the fall and winter months are upon us and the days get shorter, it's a good time to remind parents/guardians, students, and community members to take extra precautions on the roads when students are walking to and from school, to the bus stop or biking to and from school. Student safety is our top priority and this includes students traveling to and from school.
Students are encouraged to wear light-colored clothing or outerwear with reflective material so they are easily seen by drivers. Students are also encouraged to use a buddy system and walk to and from school with an adult family member, friend, or in a group. Students are also encouraged to not wear earbuds that would keep them from hearing oncoming traffic or alerts.
Drivers are reminded to please be aware of their surroundings including the windows of time in the mornings and afternoons that students are traveling to and from school, and to adhere to speed limits, flashing beacons, and crosswalk rules in school zones.
Students who walk or bike to school get more physical activity, develop healthy habits that can last a lifetime, and decrease their risk of chronic disease and obesity. They arrive awake and alert, with better focus and concentration, which can improve academic performance. These are all great benefits of walking or biking to school, but we want to make certain they are safe while doing so!
Thank you for helping keep our students safe!